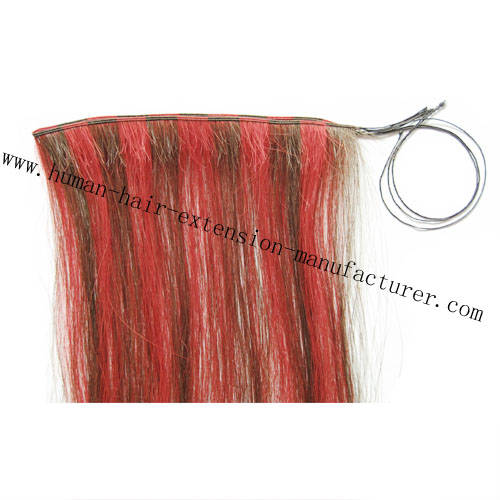 Hand Tied(Knoted,Made) Weft(Weaving,Weaves) Remy(Remi,Cuticle) Human Hair Extension Made of Indian, Chinese or European Human Hair,Quick,Convenient Hair System etc.

Hand tied weft hair extension are chosen from health,young,stretchy chinese or Idian human hair luster, smooth, silky,soft.All of hair are by hand-knoted on a very thin weaving,so very thin weft easy to hide in your own natural hair and no bumps.You just need to tie with you own hair then you will change the length and color of your hair quickly,beautiful and expeditious way of fashion.

Colors:#1,#2,#4,#6,#8,#10,#12,#14,#16,#18,#20,#22,#24#613,#SS,#SB,#RED,#GREEN,#BLUE,#BURG, #PURPLE,#COGNAC,#ORANGE,#T1B/BUG,#T1B/COG,#T1B/33,#T1B/RED,#T1B/22,#T1B /GRE,#T1B/30, #T1B/24,#T1B/OR,#F1B/33,#F1B/30,#F1B/27,#F1B/CON,#P1B/BUG,#P1B/CON,#P1B/33,#P1B/30,#P27/613,# P4/27 etc.

Length: 6 inches,8 inches,10 inches,12 inches,14 inches,16 inches,18 inches,20 inches,22 inches,24 inches,26inches,28 inches etc

Texture: 100% human hair,remy/remi/cuticle human hair,grade A,B,C etc as your demands.